The Secretary General of the International Telecommunication Union (ITU), Houlin Zhao, welcomed Vietnam's proposals and initiatives and hopes that he will share his experiences with other ITU member countries.
The ITU is a specialized organization of the United Nations created on July 15, 1947. The ITU has 193 member countries and more than 700 associate members which are companies, research institutes operating in the fields of telecommunications and technologies of communication. information, and regional and international organizations. organizations.
ITU is an organization whose mission is to maintain and strengthen international cooperation in the fields of wire, radio, fiber optic cable and satellite in all member countries in order to enable the use of telecommunications of the most efficient way.
Vietnam's role in ITU
Since 1975, the government of the Socialist Republic of Vietnam has been the only legal representative of Vietnam to participate in the ITU. In recent years, Vietnam has demonstrated its increasingly important role in this organization.
The first ITU Telecom event was held in 1971. Since its 40th anniversary in 2011, ITU Telecom World has been held in a different location around the world every year. The 2020 event will be ITU Digital World, which will take place online from October 20-22. ITU Digital World 2021 will return in its usual form to Ha Noi Viet Nam in October 2021.
In 2020, Vietnamese Minister of Information and Communications Nguyen Manh Hung proposed to change the name of ITU Digital World, the platform for innovation showcases, high-level debate, knowledge sharing and networking for governments, industry leaders, small and medium enterprises and regulators who are part of the global ICT community, which was first held in 1971.
ITU Secretary-General Houlin Zhao said: "For a long time, the old image of landlines was presented when talking about telecommunications. But now when we talk about ICT, we think of development. business and technology applications. In 2019, the event was held in Hungary as ITU Telecom World. But Vietnam suggested renaming it ITU Digital World, a wonderful initiative that shows the importance of technology digital in the communications ecosystem.
During his meeting with the Secretary-General of the ITU on October 15, Minister Nguyen Manh Hung proposed a number of initiatives: each ITU member country takes its own initiative or on a proposal from the ITU and puts implement this initiative with its own resources. When successful, ITU will disseminate this initiative globally. ITU will thus mobilize the resources of 193 countries.
He cited an example: Vietnam is accelerating 5G coverage by calling on mobile network operators to jointly invest in this technology. Thus, the investment costs paid by each operator will decrease and Vietnam will have a national 5G network in just one year. Vietnam plans to implement this initiative in 2022 and if it is successful it will share its experience with ITU.
Another initiative proposed by the Vietnamese minister is the timetable for phasing out 2G services by 2023. It is estimated that by the start of 2023, the number of customers using 2G handsets will be less than 5%. As a result, the government and mobile network operators will buy 4G devices to replace the 2G devices used by 5% of the population.
Another proposal raised by Minister Nguyen Manh Hung is to change the name of ITU to International Digital Union (IDU).
During the meeting, the ITU Secretary-General welcomed Vietnam's proposals and initiatives.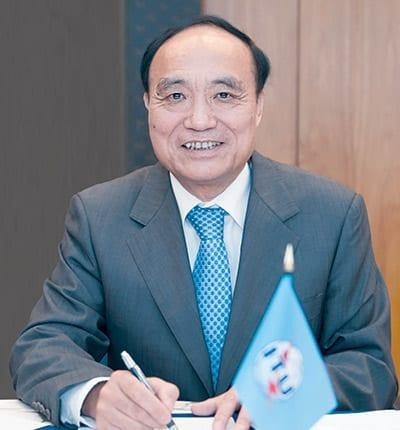 Secretary General of the International Telecommunication Union Houlin Zhao.
Vietnam actively participates and chairs many ITU working groups. Doan Quang Hoan, former director of the radiofrequency department, was elected member of the radiocommunications regulatory committee (terms of office 2014-2018 and 2018-2022). The Vietnamese Ministry of Information and Communications has participated in many ITU activities such as the 2008 World Conference on Standards, the Plenary Working Group on Closing the Standardization Gap of the World Conference on Telecommunication Standardization 2008, ITU-D Development Consulting Group and Research Group 1, ITU-R Ground Services Research Group 5, Regional Country Working Group in development prepared for the ITU Plenipotentiary Conference, the regional working group on the agenda of the World Telecommunication Development Conference 2017, the 3rd Committee on the working methods of the World Telecommunication Standardization Conference , ITU Standards Research Group 11, and others.
Based on the experience of a developing country, Vietnam proposed a number of ideas and initiatives, followed by a resolution for the ITU Plenipotentiary Conference. A typical example is Resolution 123 on closing the telecommunications standardization gap between developing and developed countries, which was implemented to support developing countries and was widely appreciated by many countries.
Vietnam has actively contributed to the formulation of ITU policies, reform of the organizational structure to protect the interests of developing countries; and the search for and contribution of ideas to the management and technical areas of ITU. This has strengthened Vietnam's position within the ITU more and more.
In the future, Vietnam will encourage its companies to participate in ITU activities; and create a contingent of young officials capable of participating in ITU activities and standing for positions in ITU such as the Radio Regulations Board, chairing ITU research teams, groups ITU advisory and other leadership positions.
ITU support in Vietnam
ITU has implemented many activities to support Vietnam, in particular management policies and capacity training. When Vietnam first opened, ITU's support was particularly important in helping the country gain more information and experience to develop the telecommunications industry.
More specifically, ITU has coordinated with the United Nations Development Program a number of major projects such as: project VIE 85/019 (1989-1991) on strengthening the information network on storm prevention and flooding in Binh Tri Thien province; Project VIE 86/047 (1989-1993) to upgrade the digital laboratory of the Institute of Post and Telecommunications Sciences and Techniques (VNPT); VIE Project 89/006 on the Assessment of Vietnam's Comprehensive Telecommunications Network and a Project for the Construction of Multipurpose Community Telecommunications Centers in Dak Lak, Bac Giang and Bac Ninh.
ITU has helped Vietnam to implement a number of projects such as the Multipurpose Community Telecommunications Pilot Project aimed at developing community telecommunications, thereby helping to improve the standard of living of people in remote areas; the project "Define Vietnam's information and communication technology development strategy by 2010 and the vision by 2020", the project to train Vietnamese experts in the implementation of the program PLANITU telecommunications network and training courses, seminars on telecommunications development policies, electronic commerce and payments.
ITU sent numerous experts to assist Vietnam in telecommunications policy and planning advice and assisted Vietnam in human resource training by providing scholarships to Vietnamese officials to participate in courses aimed improve their professional skills in management, engineering and operations.
Nguyen Thai

Together, ITU member countries can help connect everyone digitally by 2030
ITU 2021 Digital World on "Joining Hands to Build a Digital World" organized online by Vietnamese Ministry of Information and Communications and ITU has ended